/archive.at-43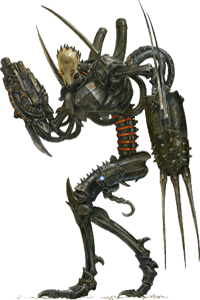 Forty-three years ago, the Therians appeared from the depths of space and drastically altered the planet Ava before its human population managed to drive them off.
The fighting was not over, though: the two human factions, the U.N.A. and the Red Blok, had reached an uneasy truce to fight their common enemy, but now returned to settling old scores as well as fighting the Therians on their articifial world, Damocles. At the same time, the Avans' defeat of the Therians made other races rise up against the Therians: the gorilla-like Karmans and genetically-engineered Cogs joined the war as well, as have the mercenary ONI.
AT-43: The game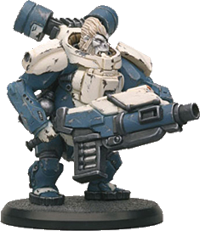 AT-43 is a sciencefiction tabletop wargame that was published by the now-defunct Rackham Entertainment. In a game like this, you control an army of model soldiers and vehicles, fighting it out with your opponent's forces for control of vital objectives on the battlefield. When it's your turn, you maneuver your models across the tabletop to gain better tactical positions and attack the enemy using the game rules and dice rolls to determine the outcome of your attacks.
Rackham produced a range of ready-made models that you can use straight from the box — no assembly or painting required! Still, if you want to, touching up or re-painting the models yourself is always an option.
This site
/archive.at-43 is an unofficial web site dedicated to the AT-43 game. It contains a variety of materials that players may find useful, with a range of articles about such topics as making your own terrain to play on, to cards for models that have none, to materials to help play the game, and a lot more as well. Use the Site navigation menu at the top of this page to find your way around!
News
Rackham Entertainment has gone into liquidation: read more on Tabletop Gaming News.
Because of this, I decided to set up a forum on this site for AT-43, Confrontation and related games because it is unlikely the official forums will be around for very much longer. If you play those games, do register and join us in keeping the games alive!
Compliments (on any subject) are always welcome at <gurth@xs4all.nl>, but other messages will also be read and usually responded to.
Alternatively, you can find the author at several forums, the most relevant of which to AT-43 is the unofficial AT-43 and Confrontation forums, but Waryammer is a good choice as well.
---

Read this article online at
http://at-43.understairs.nl/
!